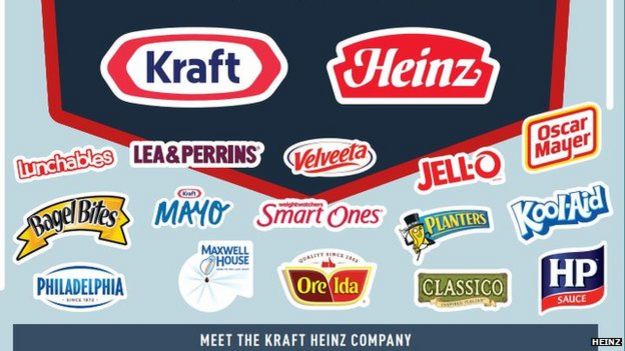 Kraft Foods and H. J. Heinz, two giants of the American food industry, are merging in a blockbuster deal involving the billionaire Warren E. Buffett and the Brazilian investment firm 3G Capital, creating what will be the fifth-largest food and beverage company in the world.
In addition to its ketchup, Heinz sells sauces, soups, beans, pasta and Ore-Ida potatoes, among other food brands. Kraft's brands include Jell-O, Kool-Aid, Lunchables, Maxwell House, Oscar Mayer, Philadelphia, Planters and Velveeta. The combined company will have revenue of about $28 billion, with eight individual brands each reporting sales of at least $1 billion a year, and five brands with between $500 million and $1 billion in sales.
Heinz, which is owned by 3G Capital, and Mr. Buffett's Berkshire Hathaway will control 51 percent of the combined company, while Kraft shareholders, who must still vote to approve the deal, will own 49 percent.
Kraft shareholders will also receive a special cash dividend of $16.50 a share, or about $10 billion, to be paid for by 3G Capital and Berkshire. The dividend represents a 27 percent premium based on Kraft's market value of about $36 billion on Tuesday. But in addition to the dividend, Kraft will hold a nearly 50 percent stake in a company worth more than $70 billion. Because Heinz is private, its equity value is not publicly known, but people briefed on the matter said the combined company is expected to be worth as much as $100 billion by 2017.
The stake owned by 3G Capital and Berkshire will remain privately held, while the rest of the company's stock will be publicly traded on the Nasdaq. In time, some of the stock controlled by 3G Capital and Berkshire Hathaway could be sold to public shareholders, but the companies expect to retain effective control even if their equity ownership dips below 50 percent.
The combined company will have co-headquarters in the Chicago and Pittsburgh areas.
As he did in with Heinz, Mr. Buffett played a significant role in bringing the deal together. His company, Berkshire Hathaway, is investing alongside 3G Capital again, and will help pay for the dividend for Kraft shareholders.
"I am delighted to play a part in bringing these two winning companies and their iconic brands together," Mr. Buffett said in a statement. "I'm excited by the opportunities for what this new combined organization will achieve."
The deal marks a return to megadeals for Mr. Buffett, who has maintained that he is on the hunt for "elephants" — large companies he could incorporate into the growing Berkshire Hathaway conglomerate.
From its base in Brazil, 3G has become a powerhouse in the world of food brands. The firm, which counts the billionaire financier Jorge Paulo Lemann among its owners, has made daring moves for companies like Burger King, which it bought in 2010.
Two years ago, 3G and Mr. Buffett — a public admirer of Mr. Lemann and his firm — teamed up to buy Heinz for $23 billion. Last summer, 3G, through Burger King, bought the Canadian coffee-and-doughnut chain Tim Hortons for about $11.4 billion, with the aim of creating a global fast-food empire whose offerings stretch from breakfast to dinner.
Plans to merge Kraft and Heinz have been in the works for years. When 3G Capital and Mr. Buffett took over Heinz, they identified Kraft as an ideal merger partner. Early this year, soon after John T. Cahill took over as chief executive, 3G and Mr. Buffett approached Kraft about a deal.
With 3G, Kraft will get management known for its cost-cutting skills and strategic acumen. Alex Behring, the managing partner of 3G will be chairman of Kraft Heinz, while Bernardo Hees, the chief executive of Heinz, will be the C.E.O. of the combined company.
The companies said they estimated they could find savings of $1.7 billion annually by the end of 2017 through cost reductions and efficiencies of scale. The combined company intends to pay a dividend, as Kraft does today, and increase it over time.
Kraft is the product of a 2012 split that created Mondelez International. The company has been wrestling with low margins and flat sales amid the shifting tastes of consumers.
Since the breakup, Kraft's sales have been relatively flat at about $18 billion. Its overall profit last year fell 62 percent, to $1 billion, weighed down by the commodity costs of coffee, cheese and meat. The company has tried to cut costs and raise prices. But packaged-food companies as a whole have grappled with disappointing sales, owing to a drop in spending by lower-income customers and a change in tastes among more affluent buyers.
Kraft primarily sells in the United States, while Heinz is stronger internationally. Heinz Ketchup is globally reknowned, for example, and its HP brown sauce is popular in Britain and Germany and elsewhere in Europe. Kraft's brands, like Jell-O and Oscar Meyer, have failed to translate internationally. Executives hope that Heinz's global sales and distribution networks will help change that. Combining the two will also create a global foods powerhouse with strong sales to both consumers and commercial customers like restaurants.
But the deal may face antitrust scrutiny. Regulators in Washington are taking a harder line when evaluating potential mergers that reduce competition.
Because no debt financing was needed, the deal was orchestrated without the assistance of any big banks like JPMorgan, Bank of America, or Citigroup. Instead, Kraft was advised by Centerview Partners, a small boutique, while Heinz was advised by Lazard, the independent investment bank.
Lazard and the law firms Cravath, Swaine & Moore and Kirkland & Ellis advised Heinz. Centerview and the law firm Sullivan & Cromwell advised Kraft.
original article via: NYTIMES